Well I guess that this is becoming kind of an habit, even if it is ever less frequent I am, again, writing this on a A320 flying back home from Frankfurt.
About one year ago, after failing to race Ironman Austria under 10h (yup, the magic sub-10) I immediately signed up for Ironman Frankfurt. Why? Mostly because my brother and a couple of close friends decided to do it and I really enjoyed my first full distance there back in 2014. I enjoy the city and the race venue and the logistics are great flying from Lisbon.
So there I was signed up for the race when my better half decided to race a 70.3 and immediately had my full support. Starting around December we both began training for our 2018 races. We did a training camp in Lanzarote Club la Santa (which I really recommend), raced a couple of shorter distance triathlons, dealt with some injury (I was sidelined from running for almost 3 months and had some major back pain during the last preparation weeks), all the mambo jambo that this triathlon lifestyle demands all while running a digital agency at the same time. Since we were both preparing to race we tried to schedule some training sessions together on all three disciplines and she managed to have a great, even if really tough race in Elsinore 70.3.
My goal was again to try to finish a full distance under 10h and again I failed. This time I knew that it would only be attainable on a perfect day since the bike course had 185km so 5km more than standard and that was messing all the math (on paper, but mostly on my head) – I must also say that no one understand why the bike course had those additional 5km; the organisation claimed it was because of road works but we there was a village where there were some roundabouts where the distance could easily be cut short.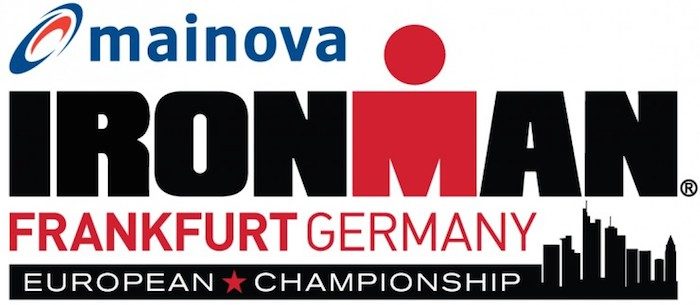 On July 8th it was my time to compete and there I was at the lake, just outside Frankfurt, waiting for my turn on the rolling start for the swim. A little anxious and emotional as is due by such a demanding race I went to the water at the end of the 1hour swim time box, which paid dividends with finding some fast feet to follow during almost half of the swim. Unlike last year race in Klagenfurt, here I felt moving at a nice pace even if in the end I finished with 1h10, which is far from fast. During the swim course there are two stretches where you swim just into the sunlight making it really hard to navigate, the first is just before the australian exit and the second is also just before the swim finish line – so make sure you swim with a nice pair of smoked goggles.
Going out on the bike, the first 20km, basically riding from the lake and into the city centre, should be really fast, anywhere between 35/40km/hr but it was a lot slower because we were facing head winds. Anyway I kept going trying to focus on the bike leg and see if I could make myself push the cranks around 200/210 watts average (my coach was expecting around 225) but it was hard to sustain. In the back of my head I was running the numbers and those were not adding up for the sub-10 goal. Without that goal on sight it was really hard to keep pushing the cranks when the legs would start to burn and I finished averaging around 190 watts, a little over 32km/hr and a 5h40 bike leg for 185km. The weather was a little challenging with strong winds and the temperature rising by the hour up to 27C. I also had to stop for maybe 60/90 seconds when a bee entered my helmet and decided to sting me as I was messing with it to make it go away!
Finishing the bike I got final confirmation that it was not my sub-10 day and I decided to enjoy the race as much as it is possible to enjoy running 42km in the heat. At T2 and since I had already let go of the goal, I took the chance to change into running shorts and singlet and that was really nice to make a kind of a reset (I really recommend it if you can spare some additional 60 seconds to change clothes). The running venue is nice with 4 laps around the river and with lots of spectators cheering the athletes. I started running a little faster than 5:00/km and managed to average 5:04/km for the distance, therefore racing a 3h33 marathon. Also, another highlight of the marathon was that about 3km to the finish line I found a friend and we managed to push each other to the end, crossing the finish line together!
I was of course expecting a faster race, even if not sub-10, at least very close to 10 hours but the thing is that when my head understood that there was no chance of sub-10, it was very hard to keep thrashing the body for so many hours with a clear goal. Anyway we had a blast those days over in Frankfurt, with my closest family, lots of friends (many from our tri Club Wikaboo, including our coach) also competing and a huge support crew it was really amazing!
Since nutrition always plays an important role on this kind of training and races, I was confident and at the same time curious to see I my body would make this work since this was my first plant-based Ironman. I haven't been eating dairy, meat and fish for about 1 year now. It was nice and challenging to discover new ways to fuel my body, specially on those heavy training days when you are out for 5 to 7 hours and need to eat 3.000 or 4.000 calories in one day, from plant sources. On the heavier days to help with recovery I changed from whey protein powders to vegan blends (mostly rice, hemp and pea) and additional BCAA. The protein part is an easy fix between some vegan blends and eating a lot of beans, chickpeas and lentils; my go to carbs are oats, brown rice and pasta, darker grain breads and fruits; then for fats peanut butter and tahini will do the trick. During the race itself things also went pretty well, consuming water, isotonic, salt sticks, clif bars, Sponser and SIS gels!
Overall this was not the race I was looking for, but it was what I managed to do. Besides the not so perfect weather on the bike, looking back I think some things also messed with the preparation, mainly racing Half Ironman Lisbon in May in beast mode which let me in a hole for about 3 weeks until I was able to feel good in training (but sometimes you have to dig deep just to see where is the limit). Also I really wanted to help my better half succeed and neglected some rest to be able to join her trainings sessions (but  I would do it all over again).
Finishing Ironman Frankfurt I decided not to rush things regarding a new challenge. The first days after the race I was trying to convince myself to change my mindset for the next season to race a harder Ironman course – something with a very challenging bike like Lanzarote, Canadá or Nice would do the trick so that I wouldn't focus on a personal best. As the days went by I noticed I am not ready to put the sub-10 goal on hold for so long, so next year I will go for it one more time… stay tuned!