It's been a long time since I've written on this blog. Again, I'm taking the idle time while flying to write a review of my last sports challenge. I've started writing this post flying from Venice back to Lisbon (because that's the route we took to get to Klagenfurt) but I'm finishing it flying to Frankfurt where we will cheering my brother to the finish line of his second IM race.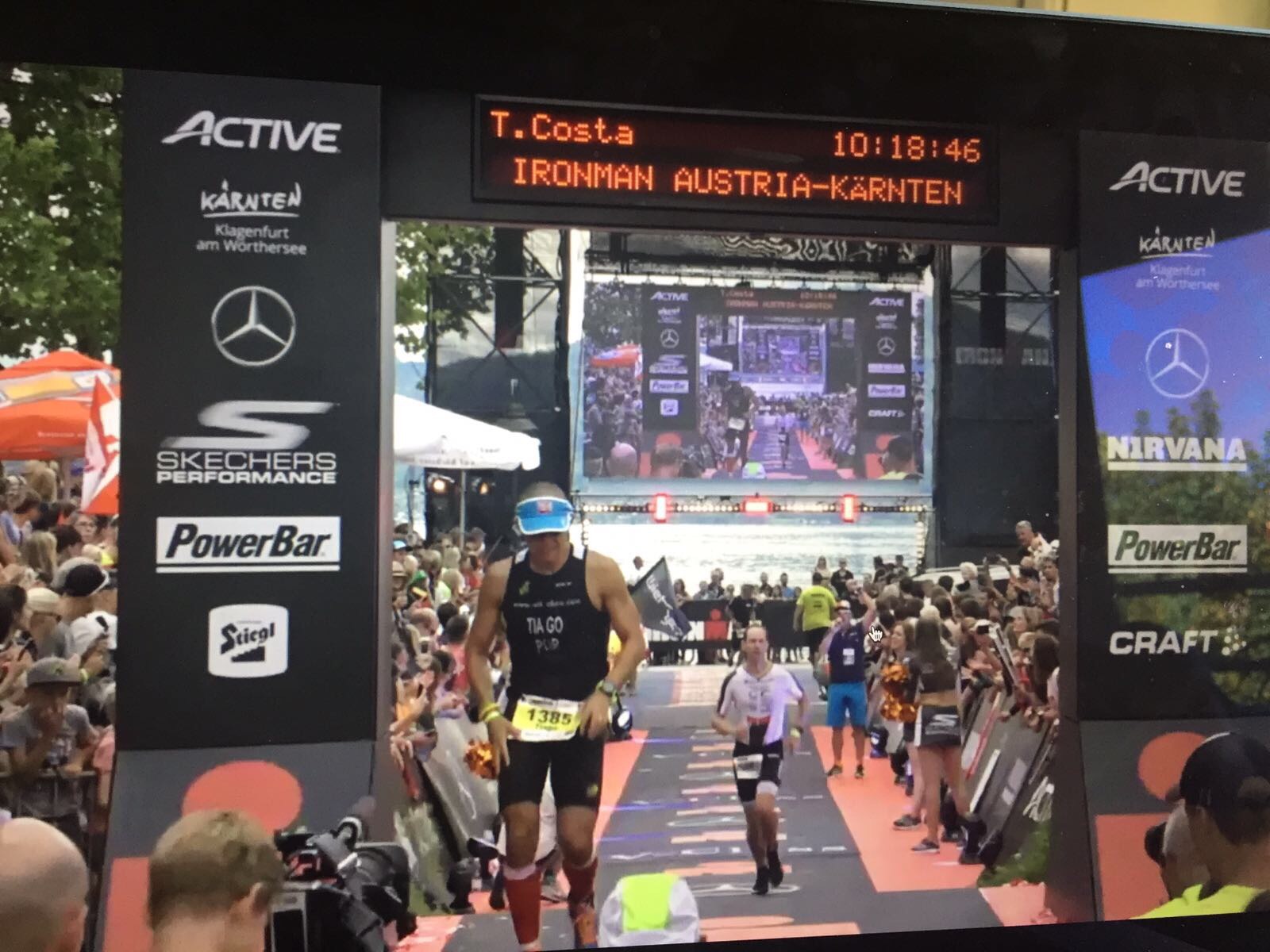 So, back to Ironman Austria, last Sunday, July 2th, I have raced my fourth Ironman distance triathlon. I have been mainly focused on the preparation for this event since the beginning of 2017 and that has included two other major events: Sevilla Maraton in February where I PR'ed with 2h53m (runners will be runners will be runners…) and also the already classic Challenge Lisboa, an half ironman distance triathlon in May.
Besides this main races I have entered Évora Granfondo (160km bike ride), spent an amazing week at Clube La Santa in Lanzarote and a couple of days at the sunny Algarve where you find great conditions to practice sports all year round.
Regarding Ironman Austria, it was without question the race I felt more prepared to do. I have managed to put in many quality training sessions during the last 6 months and mainly during May an June where volume went up while not reducing intensity too much – in fact, I was doing both long sessions and intensity sessions throughout the weeks in all the three sports, plus additional strength and funcional work at the gym (mainly to keep injuries away and increase leg strength).
When the season started I decided to focus on the swim. So during winter, when I usually don't pedal so much, I took the time to improve my swimming skills. I knew before hand that it was a shot that could not hurt but that could also not deliver significantly. Swimming is indeed a very technical sport and one that is not easy to master if you have not practiced it while very young. This is my case and even with the help of some amazing swim coaches it seems like I have not improved so much. Maybe I have dropped my 100's pace from 1:52 to 1:40/1:38 or even a bit less but that is still not sustainable for longer distances and definitely not for 3.800m Ironman swim.
We arrived in Klagenfurt, the mid size town where Ironman Austria takes place, on Thursday before the race after flying in from Lisbon to Venice and then driving up north. Klagenfurt is a relatively small city but it is fairly sophisticated. The people are not so friendly with tourists like one would expect but we enjoyed our time over there anyway.
When we arrived no one still knew for sure if it would be a wetsuit legal race since the water had reached more than 24,5C for several days. Anyway, as race day approached the temperature was dropping and we finally could swim with the wetsuit making it a bit more manageable.
I had the chance to swim at the Worthsee lake twice only to find myself swimming really slow without the wetsuit. The swim venue is really beautiful and surrounded by mountains, matching lake Zurich where I have raced in 2015, even if the water is not as clear as in Switzerland.
Although I was in my best shape ever to race an Ironman some things were keeping me a bit anxious approaching this race:
– the unknown about wetsuit / non-wetsuit
– me feeling slow in the water without the wetsuit
– not so good sensations on the bike when I pedaled on site
– the fact that my wingman (aka Z4) with whom I have done most of the training was absent after being hit by a car while running.
On the other hand, like I wrote, I knew I was well prepared and my running sensations where great with the legs wanting to go faster than needed on those shake downs before the race. Also I had the full support of my wife who was always pointing out the good things regarding that race and all the effort I had already put into it that would come to good use.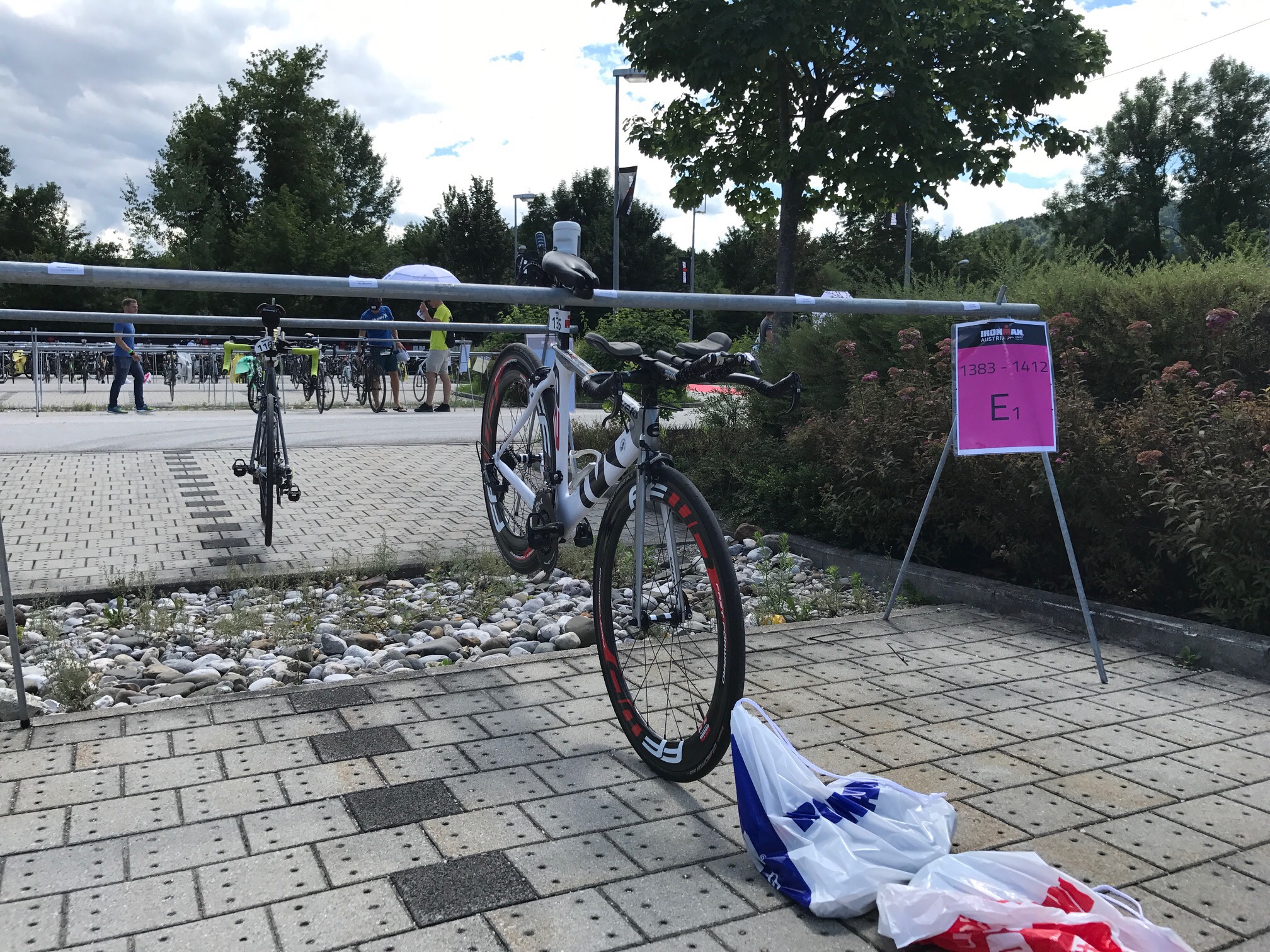 So it's finally Sunday and breakfast is served at 4am. The place is busy with all athletes eating, each with it's own very tested recipe. I took a fairly light breakfast including mostly refined carbs, sugars and a bit of protein, all washed down with a decent amount of caffeine, of course.
After that we took the transfer bus to the race site and went on with the final preparation of the bike (pumping tires and making sure everything was in order), filling the blue and red bags with everything I would race day weather was perfect with temperatures ranging from 18 to 22C and almost no wind.
Next thing I know I was at the start line and placed myself on the 1h/1h10 swim queue meaning that I entered the water at 6.57am on the rolling start. I was able to draft a bit here and there and felt good during the swim (I was looking out for cramps that had plagued some OWS training sessions). The last 800m are specially fast because you enter the canal and the water current, with all the athletes pulling, will also drag you. On the canal things get a bit more physical because it's about 12m wide meaning less space for everybody. When I finally exited the water I found the swim took about 5/6m more then expected: I had clocked 1h11m.
I'm traditionally very slow on transition but it was not the case on this race when you consider the 3 minutes run to reach T1. I was fairly fast at transition and after 7 minutes I was hopping on the bike. As I exited transition, pedaling, the bike was making a funny noise – somehow the back tyre was too close too the frame and it required me to stop and fix it.
The first 20km of the bike are by the lake and rolling, a bit uphill, a bit downhill but you just keep rolling. Then as you get further from the lake there are three steeper and longer climbs which is exactly the type of terrain that I don't perform as well (I can deal better with long rolling stretches and short steep climbs than the 2 to 4% grade longer ones).
Since I was aiming at racing a sub 10h Ironman, I knew as I exited T1 with about 1h18 race time that it would not be easy to reach my goal and that was the daemon with which I had to deal for the first 30km on the bike. Then I convinced myself to wait and see what the missing 60km of the bike loop would have in store. Meanwhile I kept pacing myself at about 190 watts, drinking water and iso and eating bars to sustain my energy and hydration levels.
After completing the first of the two bike loops I knew the chances to reach my target time were really thin. Austria is supposed to be a really fast race but I guess that this is only true if you are a good climber. If you are more into rolling for long stretches then it is not so fast because there it not a lot to roll except for the final 20km of each lap where you go downhill for long periods of time. On this race each lap brings about 850m, of ascent, totaling 1700m for the full 180km.
Entering the second bike loop I started looking for another goal and I decided that I should at least aim to renew my personal best (my PR was ser at 10h24 in 2016 IM Copenhagen, on a rolling bike course). When I was at km 150 of the bike with a bike split time of 4h38 I knew that could be achievable and pushed a bit more on the final part of the bike. I also knew that the sub 10h would not be possible because I had zero chance to run a ~3h10 (or 4:30/km) marathon.
So in few minutes I found myself at T2, grabbing my running shoes and leaving for 2 laps going from transition then along the lake and then into Klagenfurt downtown. Every Ironman that I raced before consisted of 4×10,5 loops; this is good because you get to see your support crew many times but it is also tough that you are passing the same places again and again. On a 2 lap course you know you just go through each place twice and that is a good motivation.
I went off to run pushing really hard. I knew from experience that I needed to push almost to the limit for the first 20/25km otherwise I would risk not to beat my PR since the last 20/15km are always really tough on the Ironman. I was going strong clocking a 4:45/4:50 pace and feeling good overtaking lots of athletes who had raced stronger on the bike. When I finished the first 22km I knew that if I could hold 5:00/km pace until the end I could take my PR down a couple of minutes. Also by that time, even if I had no GI issues like in previous races, I felt a bit dizzy and took some salt sticks. Some km ahead I was feeling some nausea whenever I would drink or take gel but that is to be expected when pushing the limits after so many hours into the race. The real struggle comes after km 32-35 when it seems like each additional km takes forever, everyone is walking the aid stations and lots of people start giving in. I knew I could not afford that and I only did stop to pee at some bushes.
As always the final 2km are filled with strong emotions, one one hand I had failed my sub 10h target but on the other hand I managed to PR on the most demanding race course I have raced to date. The finish line is always magic and there was still time to kiss my wife when approaching the magic carpet.
And there it was, 10h18m about 6m less than my previous PR. It was finally time to celebrate, rest and recover. And again everything made sense, all the effort during race and training and that huge accomplishment feeling you get from finishing such a grueling event where I felt like my mind was punished just as hard as my muscles. This Ironman races really force you to dig deep within, your mindset goes up and down several times along the journey and you get to know yourself better. It is also a test to your determination, not only during training but also during the race specially when you acknowledge main goal is not achievable anymore.
So, wrapping it up, I need to improve my bike climbing skills and choose a bike course with less hills I if want to go sub 10h. I also need to be able to swim faster for longer distances. Nutrition and transitions were OK and the run was as good as I could dream of.
And because no one races an Ironman by himself I must thank my wife for the *unconditional support*, day in, day out (❤️), my parents and brother, Z4 (my training buddy, always pushing me to be a better athlete) and my coaches Nuno Barradas / Wikaboo (with his unlimited devotion and patience) and Diogo, Miguel and Maria João (Clube Triatlo de Almada).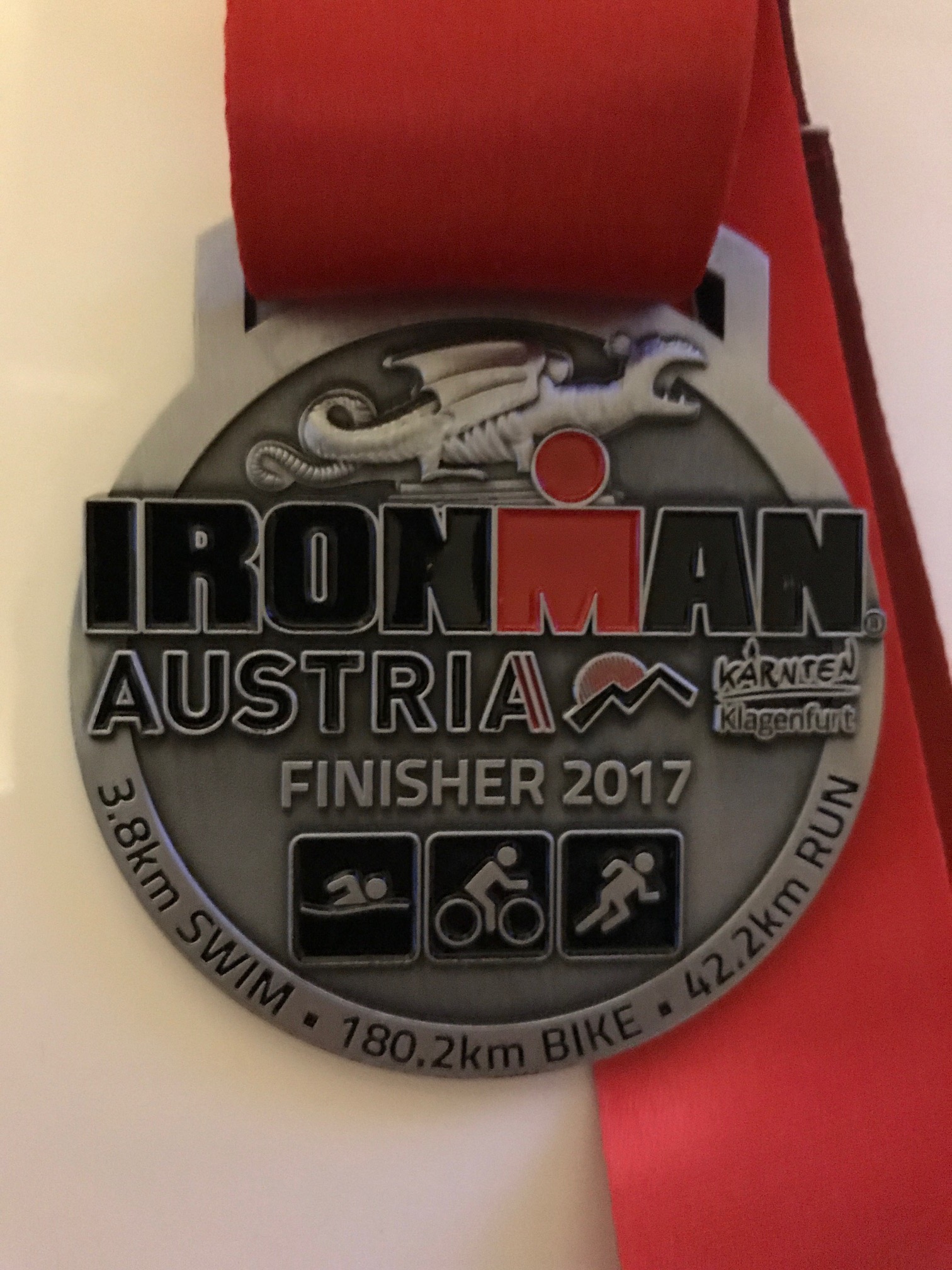 Total time: 10h18m46 – Rank – Overall: 409; M35-39: 88
Swim: 1h11m26 (1:52/100m) – Rank – M35-39: 198
T1: 7m29
Bike: 5h30m27 (32.68km/h) – Rank – M35-39: 156, Overall: 795
T2: 3m41
Run: 3h25m43 (4:52/km) – Rank – M35-39: 39, Overall: 165